Central Japan International Airport Co.,Ltd
Using the Wireless RTR-500 Series in their Specialty Goods and Souvenir Shops
Before installing the system in May 2012, to ensure food safety temperatures for refrigeration and freezer units had to be regularly checked in person and hand written onto a management chart and checked for differences between proper and actual temperatures. Having to do this every day, from opening until closing at 3-hour intervals was a heavy burden and the paper records took up great space.
Products
The RTR-500 Series has been discontinued and replaced by the improved RTR500B Series. The following links will provide information about the successor model.
RTR-500 Series
T&D Solution
System Setup
Remote Units (RTR-502L with large capacity battery) were placed in the various refrigerated show cases in both the specialty goods and souvenir shops. As all kinds of radio waves tend to cause interference in a place like an airport, RTR-500 units were used as Repeaters to ensure smooth and clear communication between the Remote Units and the Base Unit. An RTR-500NW was used as the base and connected to the already existing Wired LAN network. The RTR-500DC handheld data collector was also purchased for when they have special event showcases at different locations or when wireless radio communication is unstable.
Usage
For a sleeker looking installation and added customer satisfaction the wireless loggers were set up in the show cases with short type sensors and were placed so that customers could actually view the current temperature readings on the LCD. In addition to making the temperatures actually visible to customers and workers on the logger LCD, a warning lamp was connected to the external output contact terminal of the RTR-500NW, and was set to go off if a reading went above or below the set range for a certain period of time. The system also was set up to send warning mails upon an out of range reading and upon recovery from a warning. Moreover, current readings, as well as battery conditions, for all loggers were constantly monitored from the central office PC. The readings were also set up to be viewed in constantly changing graphs.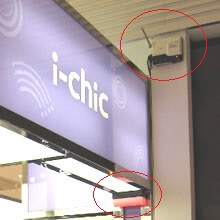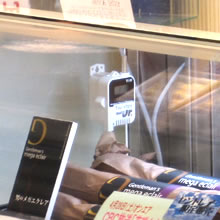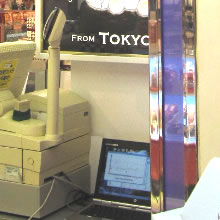 Results & Merits
By using the wireless series RTR-502L loggers with large capacity battery and the wired LAN network compatible RTR-500NW, they were able to keep accurate digital records and monitor for temperature abnormalities without the hassle of always checking and writing by hand. As the loggers are wireless and battery operated it made for ease of use when moving show cases to different areas. The handheld portable RTR-500DC made it easy to collect data even when radio communication was not working well. Safety assurance was attained by setting up to receive warning notifications by e-mail and by connecting the output contact terminal to a warning lamp. This system allowed them to set a large number of logger and manage them in groups for easy monitoring in the different areas of each shop. All of the information came over the LAN network to one central PC where info could be easily viewed, analyzed and stored.