Access Wide Range Temperature Data Anytime from Anywhere
Ultimate 2-channel thermocouple logger connectible via wireless LAN, Bluetooth and USB. Ideal for ultra low temperature vaccine monitoring!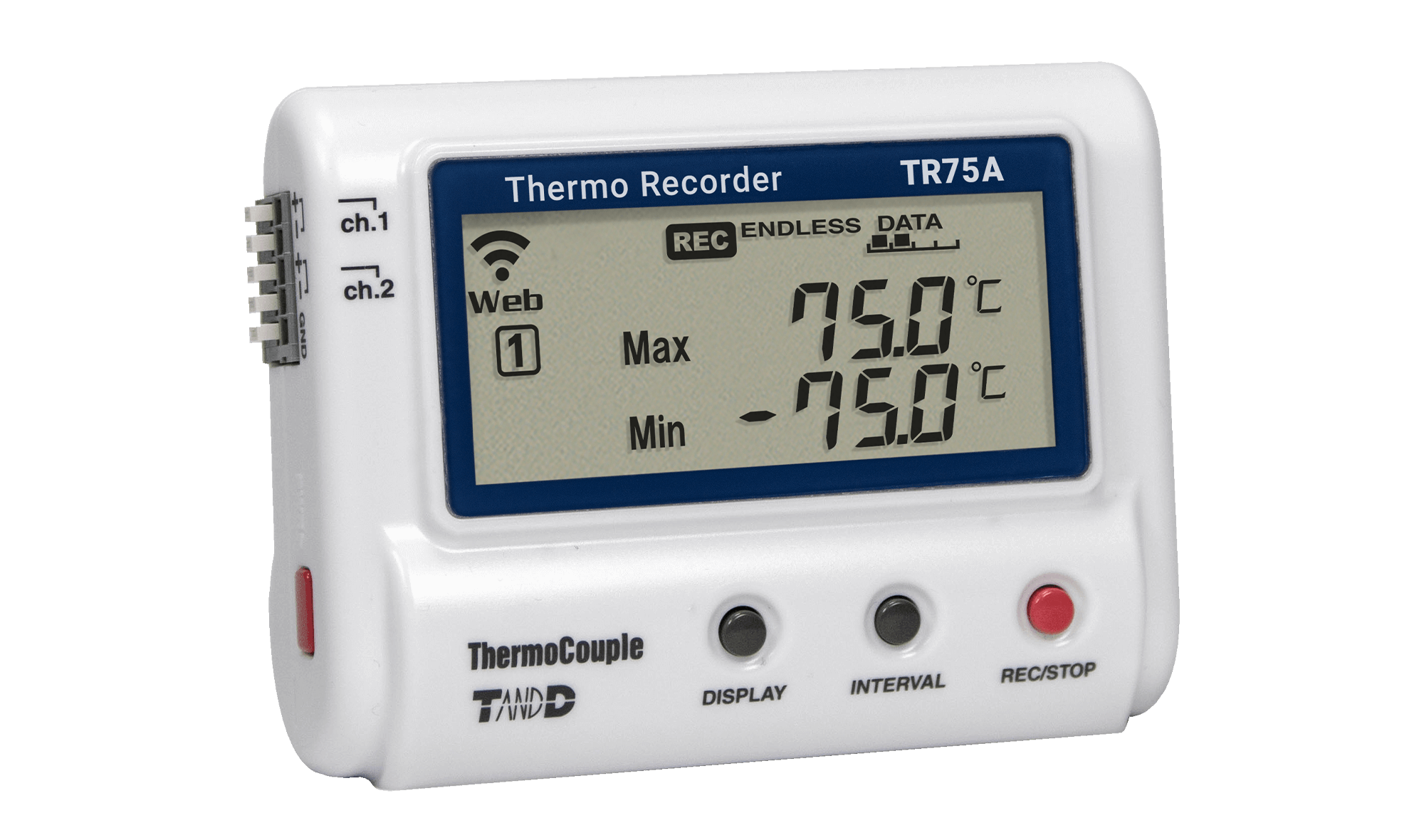 Channels
Temperature 2ch, Thermocouple: Type K, J, T, E, S, R (sensor not provided)
Range
-199~1760°C
Comm
Interfaces
Wireless LAN, USB, Bluetooth 4.2 (Bluetooth Low Energy)
Waterproof
Capacity
None
Overview
The TR75A is a temperature logger with two thermocouple (K, J, T, E, S, R) sensor connections. It is capable of measuring temperatures ranging from -199 to 1760°C, and can be used in very high temperatures such as in a plant furnace or in deep freezers where temperatures reach very low levels.
Functional buttons on the device allow you to make settings and start/stop recording. Use the wireless LAN feature to auto-upload data to the cloud for anytime anywhere access and get warning notices. Bluetooth communication allows you to view data, create reports and make settings from a smartphone or tablet. Connect to a PC with a USB cable to download recorded data, create reports and make setting changes.
The software application used with the TR75A has a "Vaccine Mode", which meets or exceeds CDC requirements for VFC, and is suitable for monitoring and recording vaccine temperatures. TR75A is useful not only in pharmaceutical and medical reseach labs, hospitals, but also in factories and other facilities.
Note: We do not handle the sale of Thermocouple sensors.
Software/Apps
Manuals & Help
TR75A Operational Differences by Measurement Mode
Normal Mode
Vaccine Mode
Max/Min Values
Max/Min temperature reading since the start of recording or reset (via buttons or software/app)
Max/Min recorded value since the start of recording or reset (via buttons or software/app)
Warning Judgment Time
30 sec to 60 min (9 selections)
A warning will be issued when a measurement exceeds the set threshold value or a sensor error occurs for longer than the set judgment time.
0 sec.
If a recorded value exceeds the set threshold value or if a sensor error occurs, a warning will be issued.
Warning Display [ALM] Icon
Warning alarms for exceeding a set upper and lower limit and for sensor errors will both disappear when the warning condition is resolved.
Warning alarms for exceeding a set upper and lower limit will not disappear even after a value returns to within the threshold range. Warning alarms for sensor errors will disappear upon return to normal.
Special Features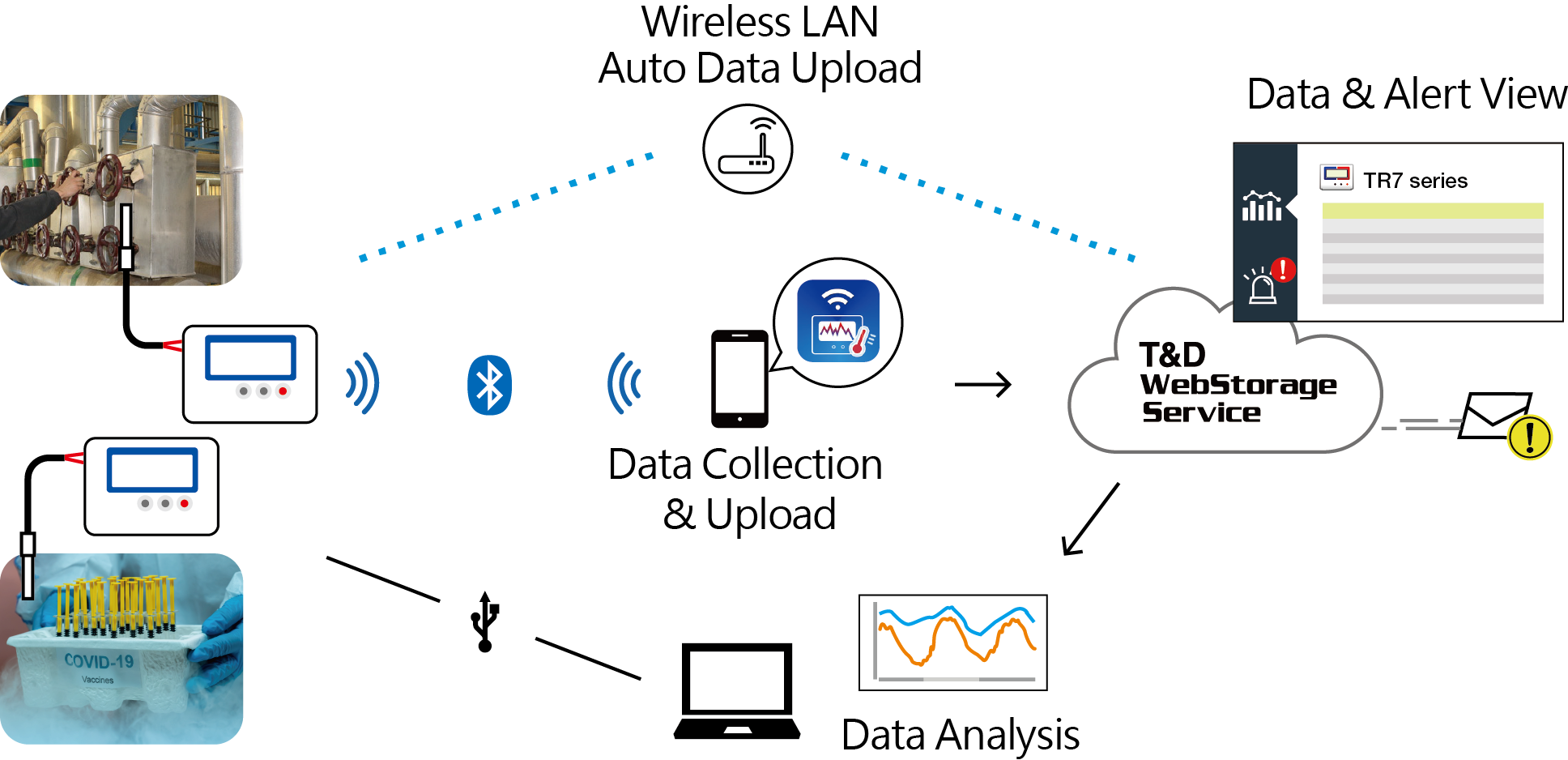 The TR75A uses a wireless LAN access point to auto-upload recorded data and warning notifications to our free cloud-based "T&D WebStorage Service" or your Windows PC running the "T&D Data Server" software. Use our mobile app "T&D Thermo" to check data from your smartphone or tablet and use Bluetooth communication to make settings, download recorded data, and create reports. To make settings from and download data via USB to a PC, use our Windows software "TR7 for Windows". Our Windows software "T&D Graph" makes it easy to view and analyze data from your PC.