Kusatsu Kokusai Ski Resort
Using the RTR-500 Series for Remote Tracking of Temperature Conditions on Ski Slopes
The slopes at Kusatsu Kokusai Ski Resort cover a vast distance at a range of altitudes. The vastness of the ski area and varying altitudes creates great differences in temperature and ski conditions. Hence, they wanted a quick, easy and safe way to check and record temperature conditions at various points. Previously, someone had had to go out and check thermometers, which was not only dangerous in bad conditions, but was incredibly time consuming. They had also had to constantly answer telephone inquiries from skiers and local hotels about conditions. This was again time consuming and was always open to miscommunication. They needed a solution that would allow then to reliably measure and record a large number of points from a distance.
Products
The RTR-500 Series has been discontinued and replaced by the improved RTR500B Series. The following links will provide information about the successor model.
RTR-500 Series
Temperature / Humidity

Temperature / Humidity
T&D Solution
System Setup
They placed one Remote Unit (RTR-503) and once Base Unit (RTR-500MBS-A) at the highest point (2,000m) on the ski slope and another set of the same units at the lowest point on the slope (1,250m).
Usage
The Base Units were set up to communicate with the Remote Units via wireless radio communication to collect the recorded temperature and humidity data at regular intervals. The Base Unit outfitted with a SIM card then relays the data via 3G cellular networking for viewing by mobile devices or PC.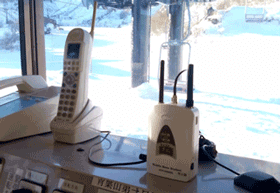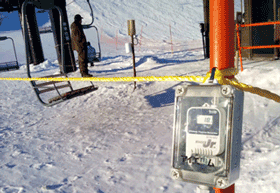 Results & Merits
By installing the wireless communication RTR-503 loggers and the RTR-500MBS-A Base Units with 3G communication capability they were are to find a quick, easy and safe way to track and record temperature conditions over a wide area. Not only were they able to track and record but this data could then be shared with local hotels, and tourist agencies as well as with skiers and snowboarders concerned about conditions. It was no longer a physical burden to collect temperature data, nor was the relaying of data open to human error and miscommunication. Not only was this data uploaded to their web site for winter, but all year round. In summer, it was easy to show how cool it was there, hence enticing people to visit. Hikers could also see real-time conditions and choose appropriate wear.