T Construction Company
Using RTR-500 Series to Remotely Monitor for Noise and Vibration during Hospital Demolition
T Construction Company had to demolish a local hospital that was set in a residential area. Due to its location there were regulations that needed to be followed concerning noise and vibration levels during demolition. They wanted a cost efficient system that not only gave them the ability to constantly monitor the site and receive alert mail notifications of any abnormalities, but also allowed them to share data with a group of people. Moreover, because it was a demolition site with no access to a Wi-Fi network they needed a device that did not use cabling but could make use of cell phones networking. T&D's Wireless Data Logger RTR-500 Series met all of those needs.
Products
The RTR-500 Series has been discontinued and replaced by the improved RTR500B Series. The following links will provide information about the successor model.
RTR-500 Series
T&D Solution
System Setup
A system was set up whereby measurements of noise and vibration were taken by noise meters and vibration meters. These measurements were then output to and logged in Remote Units (RTR-505-VL) as voltage data. This data was then automatically collected by the Base Unit (RTR-500MBS) and automatically sent via 3G cell phone network to a cloud storage service (T&D WebStorage Service).
Usage
One noise meter, one vibration meter and one Remote Unit (RTR-505-VL) were combined as a set and placed in four locations at the site. Two Base Units (RTR-500MBS) were placed nearby to collect the data from the Remote Units via 3G networking. A Repeater (RTR-500) was used to solve a problem in radio communication between a Base and Remote Unit that was unreliable due to distance.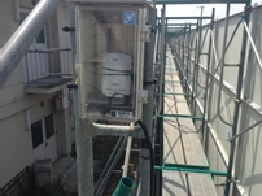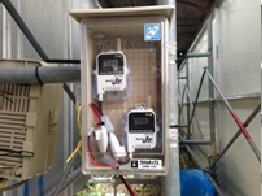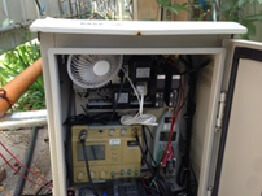 Results & Merits
This application allowed the environmental monitoring company located over 150 miles away from the demolition site to access and constantly monitor the uploaded data on the T&D WebStorage site from their mobile devices regardless of time and place. By not having to station a person at the demolition site while still being able to constantly monitor from a distance was one of the biggest merits of this application. Moreover, by having alert notifications of abnormal readings sent by mail, they were able to see when and where problems were about to occur and hence were able to take necessary steps to remedy potential trouble before becoming a full-blown issue. Other merits included keeping the costs for cell communication to a minimum by usinng an MVNO for the SIM card and cell plan. And with the large battery capacity battery of RTR-505-VL Voltage Loggers there was no worry about power supply to the Remote Units during the demolition. Finally, becasue the RTR-500MBS uses wireless radio communication to collect data from the Remote Units and then automatically uploads the data to the cloud via 3G networking there was no need for Wi-Fi or LAN networking at the site.