National Museum of Nature and Science
Using the RTR-500 Series for Long Distance Monitoring of Temperature in their Research Repository in Tsukuba City
The National Museum of Nature and Science built a grand research facility on Tsukuba City in 2011. The research facility house not only houses laboratories and libraries but also a large variety of animal, plant, geological and human samples and important cultural and historical materials. It was necessary for the museum to create a monitoring and management system to make sure all of these important objects were stored in a safe environment. After the Great East Japan Earthquake of 2011, the government ordered that everyone reduce energy consumption which meant less air-condition usage. At the same time the materials and samples at the facility were important treasures, so the necessity to monitor and manage for temperature and humidity became even a greater challenge and necessity. The repository is a vast seven-storied building made of steel and concrete. Each floor is divided by category to house various materials and samples. The management offices are in a separate building. It was necessary to set up so that each category could have its own group of loggers and that all of the data could be shared to several computers in the nearby management building, as well as, to mobile devices anywhere in the world. Other important considerations and questions came up while developing this solution. One was whether or not the Vikane gas fumigation that is done once a year to protect against insects and mold would have an effect on the temperature and humidity sensors. After testing, we found out that it did not adversely affect the sensors. Another question arose as to communication range and stability. Because the building is made of thick steel and concrete and each room contains large steel racks, these was concern about wireless radio wave communication between the remote units and the base units. After testing a stable system of communication was set up that included repeaters where necessary.
Products
The RTR-500 Series has been discontinued and replaced by the improved RTR500B Series. The following links will provide information about the successor model.
RTR-500 Series
T&D Solution
System Setup
Remote Units (RTR-503L) with large capacity battery were placed in various places in each room on each floor to measure temperature and humidity. Some of the units were attached to the racks or walls using the optional attachment and sensor lengths were varied as necessary. Base Units (RTR-500NW) were placed one per category in each area. These were all connected to the LAN network built into the repository. Repeaters (RTR-500) were placed, when necessary, in between the remotes and base units to create a stable communication system for the relay of data.
Usage
Not only was the data logged and automatically sent to the central management PCs located in an adjacent building but data was also automatically uploaded from the Base Units to T&D WebStorage Service where it could be viewed by anyone with Internet access no matter where they were. Moreover, warning limits and monitoring settings were made so that when a measurement exceeded a limit a warning mail was sent to the appropriate manager. Not only was the system set up to include measurement warnings, but also battery life and communication error warnings.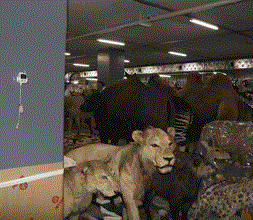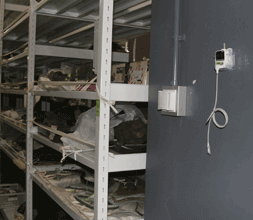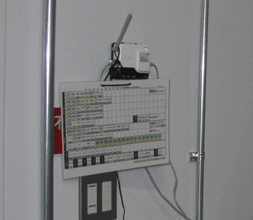 Results & Merits
By using the wireless communication RTR-500 Series with its compact loggers they were able to install them all over each area and take measurements from places that would have been impossible to reach or see. To have that important data automatically transmitted by wireless communication saved great manpower and effort. The L type were chosen for their extended battery life. The real-time monitoring at a 5-minute interval made it possible to act quickly in case of an abnormality and when dealing with important artifacts and materials time is of the essence. T&D WebStorage was a cost effective way to share data across the net to any device that can access the Internet. Another added benefit was that by monitoring for temperature and humidity they discovered that the building was great retaining heat and cool. Thereby they were able to save money and energy by switching their electricity plan to take advantage of late night off peak energy plans to run the air conditioning.