Winery in Ohio
Temperature and Humidity Sensors Optimize Ice Wine Harvest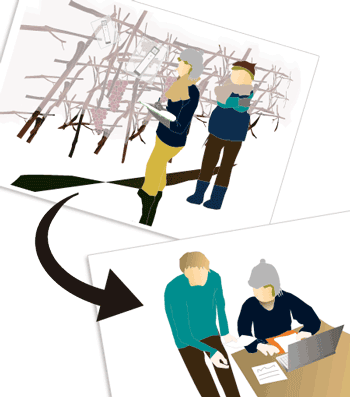 T&D Corporation's US distributor, CAS DataLoggers, recently provided the temperature and humidity monitoring solution for a small winery in Ohio which was waiting for winter temperatures to drop low enough to harvest an acre of grapes to make ice wine.
Earlier in the year, these grapes were left to freeze on the vine, where their water froze and their sugar became strongly concentrated. The resulting wine was exceptionally sweet and in high demand. However, the harvesting process was demanding and even risky: growers needed a freeze to start picking, and a delay would result in many fewer usable grapes lost to hail, rot, and animals.
In previous winters, the winery had been using glass and electric thermometers for temperature measurement, but this manual data collection method was too labor-intensive and error-prone for such an extremely temperature- and humidity-sensitive process. Wireless temperature and humidity monitoring was seen as crucial to optimizing this year's harvest, and all current conditions of the measurement cycle would have to be available at a glance to identify the best picking time. This wireless solution also needed to be accurate yet affordable enough for this small business.
Products
RTR-500 Series
The RTR-5 Series used in this example has been discontinued, and has been replaced by the improved RTR-500 Series.
Portable

Temperature / Humidity
T&D Solution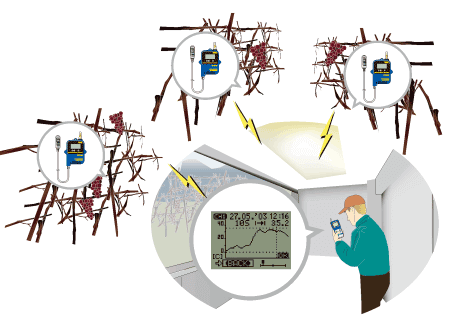 The winery installed 8 T&D RTR-53 Wireless Temperature/Humidity Data Loggers throughout the vineyard, tied to posts at optimal coverage points. Additionally, a T&D RTR-57U Wireless Data Logger Handheld Data Collector was selected to display all the loggers' data at once. Each compact datalogger was housed in a water-resistant case providing protection from the winter weather. The T&D data loggers monitored temperatures in the 0°C to 55°C (32°F to 131°F) range with their external temperature sensor, as well as recording humidity across a 10% to 95% RH range.
Each logger's LCD display clearly listed current parameters, and each of their 16,000 point memories could store up to 256,000 readings. Functioning as portable weather stations for monitoring the vineyard in detail, these devices gave key information on the microclimate (e.g. whether a temperature drop or a change in the diurnal range was due to rain or wind) by linking the temperature to the humidity info. The dataloggers also helped growers to make more accurate disease prevention efforts against diseases and mold which thrived in specific temperature and humidity conditions, so that the growers knew when to spray and remove infected vines to save the rest of the crop.
The RTR-53 dataloggers utilized built-in wireless communication capabilities to manage the data, while the handheld collector linked wirelessly to the dataloggers for convenient data download. Now the growers could process and manage their data anytime: instead of having to walk up to a datalogger to read the temperature and record it manually, the information was all shown and stored on the data collector, up to 256,000 readings. Data was then downloaded to PC via USB. The collector's backlit LCD graphical display was invaluable in the pre-dawn hours, and the convenient jog dial enabled easy operation. By making upper and lower limit settings on the collector, growers were able to easily monitor the recorded data in real-time for irregularities such as a rapidly decreasing temperature. The collector also featured charting capabilities for detailed analysis of conditions and climate.
Results & Merits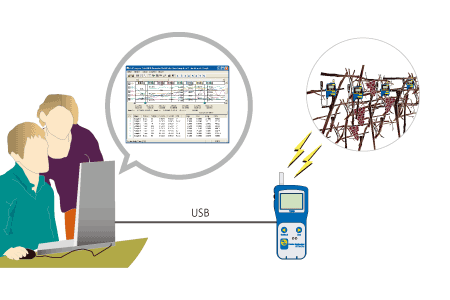 Free Windows software was included with the T&D dataloggers to control all aspects of setup, recording and downloading, as well as printing, creating text files, tables, and graphs of the recorded data. The simple yet powerful software offered users a quick, easy, and intuitive interface to connect the loggers via computer display. The software also allowed the growers to monitor current readings and setup warning monitoring whenever temperature or humidity went out of specification.
The winery benefited in several short- and long-term ways from installing the T&D wireless data loggers throughout its vineyard. Most importantly, the loggers provided continual temperature and humidity monitoring at high accuracy to ensure that the growers would be ready to harvest at the first short frost. Further, the entire cultivating process was modernized and correlated to protect the crop from disease and mold, and the electronic recordings were easily stored for later review. The dataloggers also provided the technology to improve the growers' documentation and understanding of the different temperature and humidity-sensitive processes at work, resulting in a superior and repeatable product that would improve every year. Additionally, the handheld data collector saved users a great deal of time previously spent on manually checking thermometers and typing out all the data. With the use of their new wireless data logging technology, the label was able to offer a high-quality product in high demand-- all at an affordable price.