Navos Mental Health Solutions
Keeping Patient Health Data Cool at Navos Mental Health Solutions
Serving the underserved
Navos Mental Health Solutions provides critical treatment to patients who have mental illness, or suffer from addiction, trauma and abuse. The organization's work is carried out across three major campuses in the Seattle area, offering a healing home for anyone who might be underserved, overlooked, or otherwise at risk of falling through the cracks. One of the mission critical facets of Navos' operations is the patient data stored in the organization's server room, which includes patient histories, pharmacy records and clinical medical records. This information is the backbone of the organization's operations, and more importantly, the patient's well-being. That's why Navos' IT Site Manager Jeff Coleman decided to invest in protecting the organization's server room from overheating and irreversibly damaging patient data.
The problem
Prior to upgrading his temperature monitoring technology, one of Coleman's daily rituals was to manually check on the thermometers located in the server room. This process was slow and inefficient. It also meant that if there was a problem with the server room's air conditioning (AC) unit and Coleman happened to be offsite during the day, or at home after hours, there was no way to know the servers were overheating. After a few minor AC outages which were identified and fixed before any damage was done, he decided he needed to research a better solution for monitoring and alerting him of any climate issues in the server room.
T&D Solution
A safer solution with T&D's Data Loggers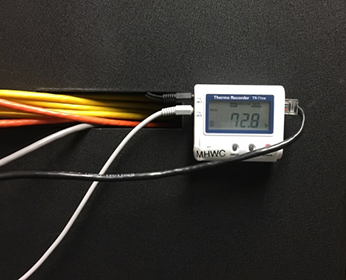 After surveying the market landscape, Coleman worked with T&D Corporation distributor, CAS DataLoggers, to purchase data logger technology to automate the temperature management process in Navos' server room. Navos purchased T&D's TR-71nw ethernet connected data loggers which feature a wide temperature range of -40 to 110°C. The compact, battery-powered devices can be deployed in virtually any quantity to form a unified data reporting network. Alternative to battery powered operation, the data logger features power over ethernet. The data loggers connect seamlessly to T&D's free and unlimited cloud-based WebStorage Service, where temperature data measured by the thermistor is automatically uploaded and stored and can be viewed from PCs or mobile devices, anytime, anywhere. This data can be simultaneously collected from multiple data loggers from varying locations, enabling real-time reports.
T&D's data logger technology has provided me with the peace of mind our patient data is safe, and I can take action to solve an AC outage anytime, anywhere. These data loggers have become an integral piece of our operations and have gone a long way in improving IT efficiency.

Jeff Coleman, IT Site Manager, Navos Mental Health Solutions
Monitoring and reporting temperature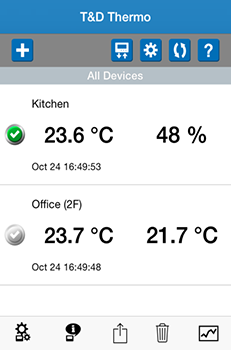 Coleman installed the T&D's TR-71nw data loggers in the AC duct and the server room to continuously monitor and report temperature. The connectivity of the loggers allows Coleman to always be aware of the status of each logger using the accompanying T&D Thermo app. The loggers can even tell within seconds if an AC unit goes down, sending an alert to Coleman immediately. The loggers have performed so well, he temporarily set up one of his three units in one of the campus refrigerators to ensure food safety for patients. The company is now considering the addition of more data loggers to use in the refrigerators in all three campuses. With the T&D data loggers, Navos found an innovative and reliable solution for improving the safety of its patient data and efficiency of its IT operations.