Release of TR7A Data Loggers
T&D is happy to announce the release of a new model of our Bluetooth and Wireless LAN-enabled temperature/humidity data logger. The new TR7A model has the same multi-communication methods and auto-upload to cloud function as the existing TR-7wb, plus a new array of features and functions. These new features are particularly useful for temperature control of vaccine storage.
*Compliant with VFC Guidelines from the CDC *The TR-7wb will be discontinued and replaced by the TR7A.
New Features
LCD display that allows simultaneous display of 2 channels
An easy-to-see ALM icon in the LCD at the onset of a warning
MAX and MIN values displayed in the LCD make it easy to understand the highest and lowest temp (humidity) for each day.
Logging capacity of up to 30,000 readings per channel (TR-7wb is 8,000). That allows for recording and storing up to 3.5 years of data at a maximum recording interval of 1 hour.
No loss of recorded data even if battery power is completely gone. Once the battery is replaced, data can be downloaded as usual.
Network communication with server via HTTPS
WPA2-EAP authentication for wireless LAN communication (to be included in the next update)
Line-up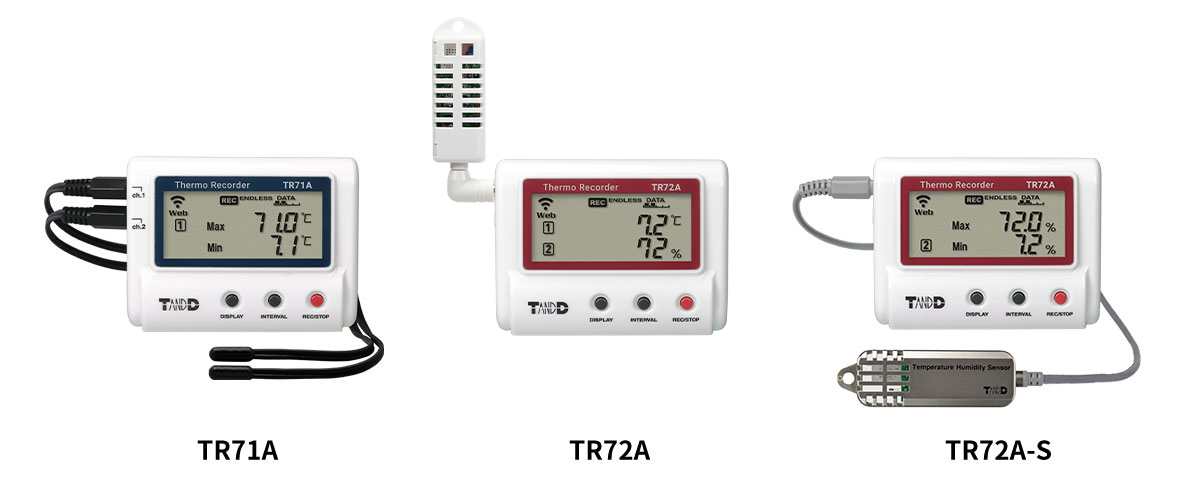 TR71A (Temperature 2ch, with VFC compatible "Vaccine Mode" settings)
TR72A (Temperature 1ch, Humidity 1ch)
TR72A-S (High Precision Type: Temperature 1ch, Humidity 1ch)
Expected Release Date
Late July 2021
Back to News Top