T&D Graph Printing Problem caused by Windows Update
We have found an issue in which the graph image is not visible when printing with the T&D Graph software after installing Windows Update released on March 10, 2021.
Currently, we have confirmed that the issue is fixed in the following update program released by Microsoft.
Fix with Update Program
KB5001567 for Windows 10 version 2004 and 20H2
Please download and install the target update program from the Microsoft Update Catalog.
The Microsoft Update Catalog site is not supported by Internet Explorer. Please use a compatible web browser such as Microsoft Edge.
Fix with Software Settings
If the Microsoft update (above) is not compatible with your current Windows 10 version, the following workaround is also available. It has also been confirmed that you can fix the issue by specifying the graph print method in T&D Graph > Print Preview > Page Setup menu as shown below.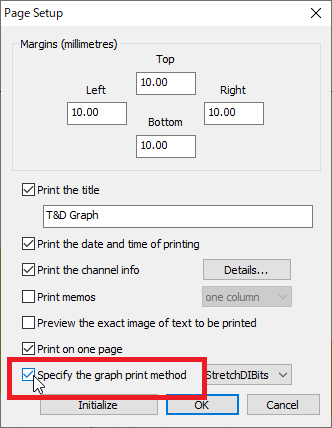 If "Specify the graph print method" is already checked, uncheck it once, click "OK", and then check it again.
Depending on the printer in use, there may be multiple print methods. If there is no improvement, please try other methods as well.
Back to News Top