The following is a brief explanation of operating procedures when using T&D products with Windows 8.
Important Notes about Installing the Software
* T&D software has been designed as a desktop application using a classic UI and is not compatible with the modern UI in Windows 8.
* By installing the application into the Windows 8 OS, some of the shortcuts will not be created.
Opening an Application
1. Upon logging into Windows 8, the [Start Window] will be displayed.
2. If a lot of application icons (tiles) are displayed, the T&D application tile may be hidden to the right of the current screen. Use the scroll bar at the bottom or the mouse scroll wheel to go to the right to see more tiles.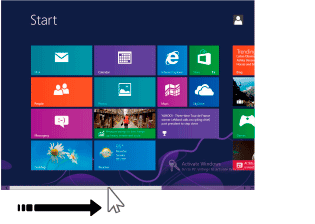 3. Click or tap on the tile to open the application.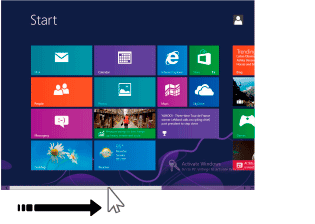 If a shortcut (tile) has not been created in the Start Window
Despite having installed the software, there may be some shortcuts which can not be created such as the Operation Guide, Help, etc... Follow these directions to open the desired application.
1. In the Start window, right-click on an open area where there are no tiles. (Open the app bar.)
2. In the app bar displayed at the bottom of the screen, select [All applications].
Back to Other Information