Reading the Display
The home screen displays a list of registered devices and updates the information (such as device status and measurements) while the screen is open.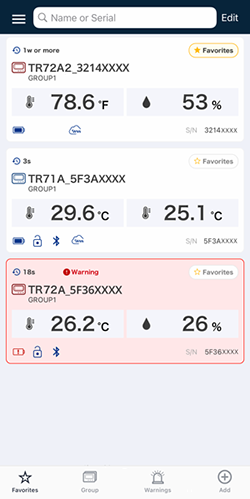 Listing Details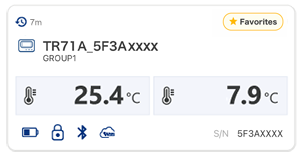 Waiting for data...
This message will be displayed under the following conditions:
The device is added to the app but no data is received via Bluetooth.
The device is registered to the WebStorage account but no data is uploaded.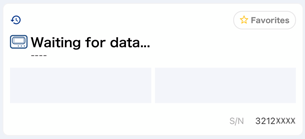 Devices registered to the T&D WebStorage Storage should be added to the app using the following procedure.
Tap on [Waiting for data...] to open the info screen for the device.
Tap to connect. The [Add Device] screen will open.
Add the device by entering its registration code and tapping [Apply].
The app will collect data from the device and plot a graph.
Other Menus
The color of the icons depends on the status of Bluetooth communication.


(Blue): In communication range


(Gray): Out of communication range
Tapping on a device in the list display (home screen) opens the screen as shown below.
To go back to the previous screen, tap

.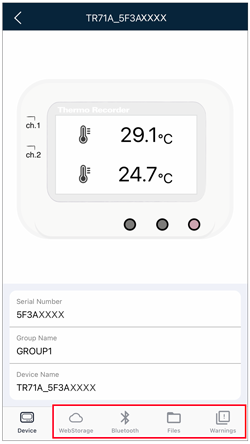 This is where you can access the data files stored on the mobile device by tapping the Download icon.
On the Device Info Screen, tap [

Files].
Note
The mark () in the file list indicates the communication method used to collect the data.
At the top of the list will appear the most recently saved data.
Select and tap a file to view in graph. By rotating your mobile device, the graph will go into landscape mode and graph operations can be performed.
You can check warning histories for devices configured with auto-upload to WebStorage and warning settings.
On the Device Info Screen, tap [

Warnings].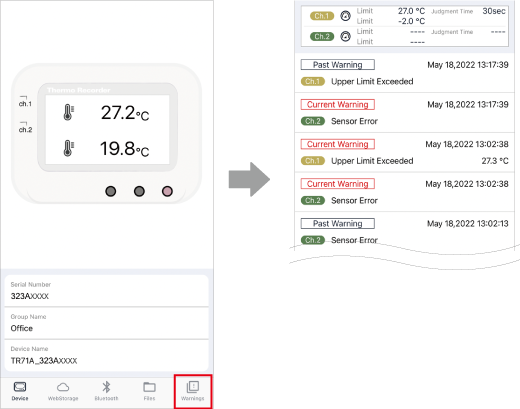 You can check warning histories on the T&D WebStorage Service as well.
Open a web browser and log in to your WebStorage account, and go to [

Alert View] - [Alert Log].
Open Warning History from Push Notification
Tapping on a received push notification will directly open the warning history of the target device.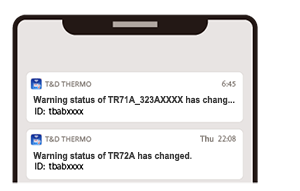 Note
If you do not receive push notifications, please check the [Notification] settings on your mobile device.